Reception
For your well-being and that of others, the Hotel is completely non-smoking. Thank you for your understanding.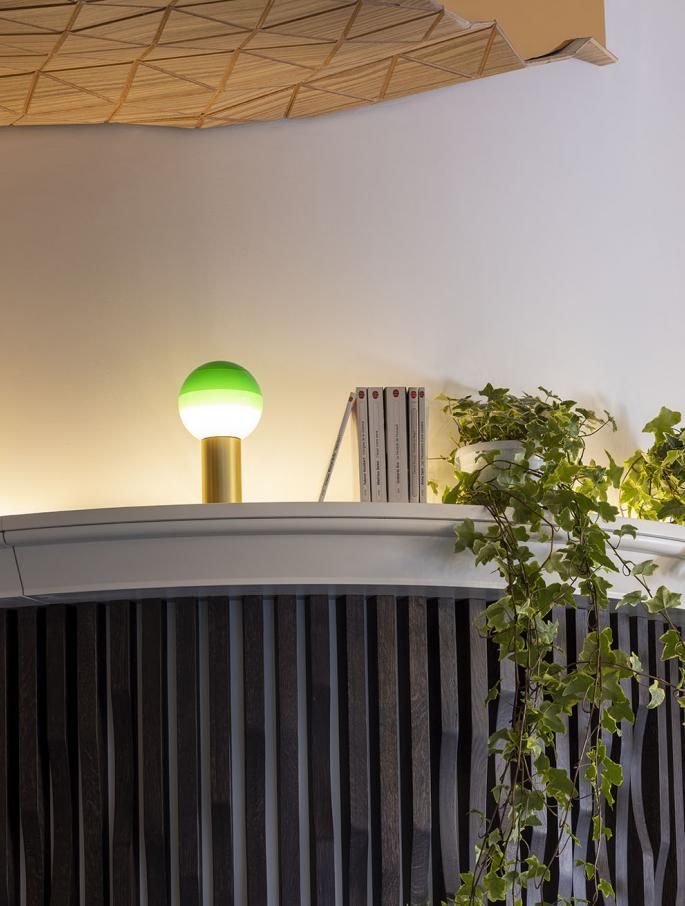 Contact
If you have any questions, wishes or need any information, we are here! Dial 9 for reception.
Emergency products
Forgot something? We have shaving kits, dental kits, sewing kits, body lotions and chargers available. Just give us a call! We will be happy to bring them to your room.
Keys to the City
To know more about local events, shopping areas, sightseeing and any other useful,
information, we are here to advise you and help making your stay in the city and its surroundings easier. We prepared a selection of museums, expositions and a list of restaurants at your disposal on the computers at the lobby. To reach us for more information, dial 9 on the telephone on your bedside table.
Leaving
Your room should normally be freed by midday. If you'd like to enjoy your room a little longer, please call us. If possible, we will be happy to keep you with us.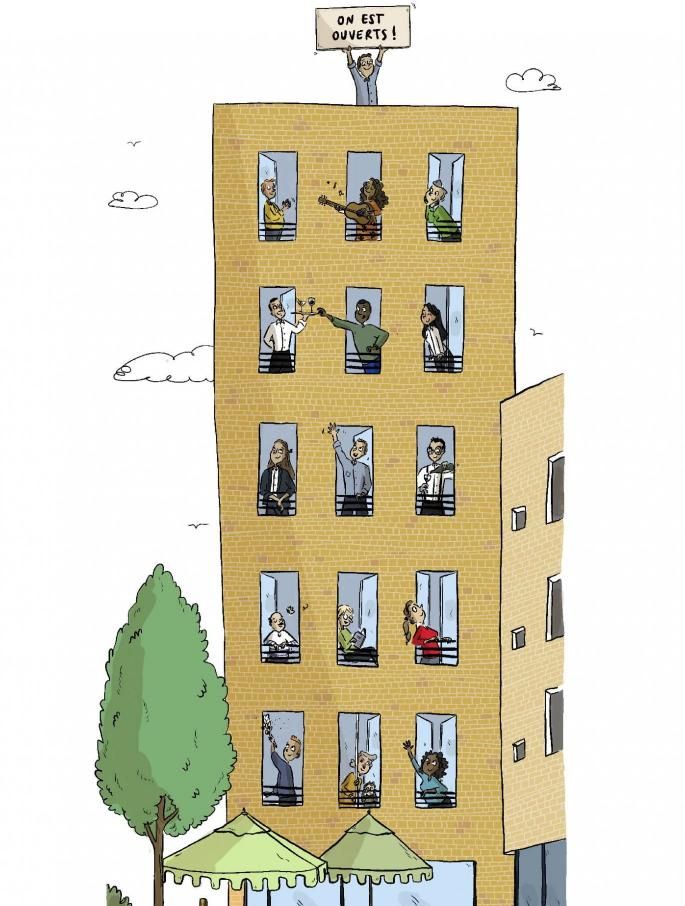 Luggage room
If you want to make the most of your last hours in the capital, use our luggage room and secure safe for your valuables.
Newspapers
Stay informed! We have daily newspapers (New York Times, Le Parisien, L'Equipe, Crush Magazine), available at the Bar entrance.
Ironing
Need a quick crease removal? An iron and ironing board at available on demand. Let us know, and we will bring them to your room.
Bicycle hire
Paris and its surroundings are so much easier to explore by bike! For a half or a full day, book your bike at the reception. We also have routes suggestions to let you discover.
Modes of payment
We accept cash and card payments (American Express, Diners Club, Visa, MasterCard, Union Pay and JCB).
Restaurant
Breakfast
What better way to start the day than with a good breakfast? We have selected the best fresh, local and organic products just for you. Come and enjoy our breakfast buffet on the ground floor between 6:30 a.m. and 10:30 a.m. on weekdays and from 6:30 a.m. to 11:00 a.m. on weekends and public holidays.
Breakfast in your room
For a gentle wake-up call, have breakfast in your room between 7:00 a.m. and 10:00 a.m. Choose what you would like to have by filling in the breakfast card and hanging it on your door before 2:00 a.m.
Breakfast on the Grand Balcony
How about having your first coffee of the day in a quiet place, facing the Eiffel Tower? The Grand Balcony on the 8 th floor is open for breakfast, between 7:00 a.m. and 10:00 a.m. Choose what you would like by filling in the breakfast form and hang it on your door before 2am.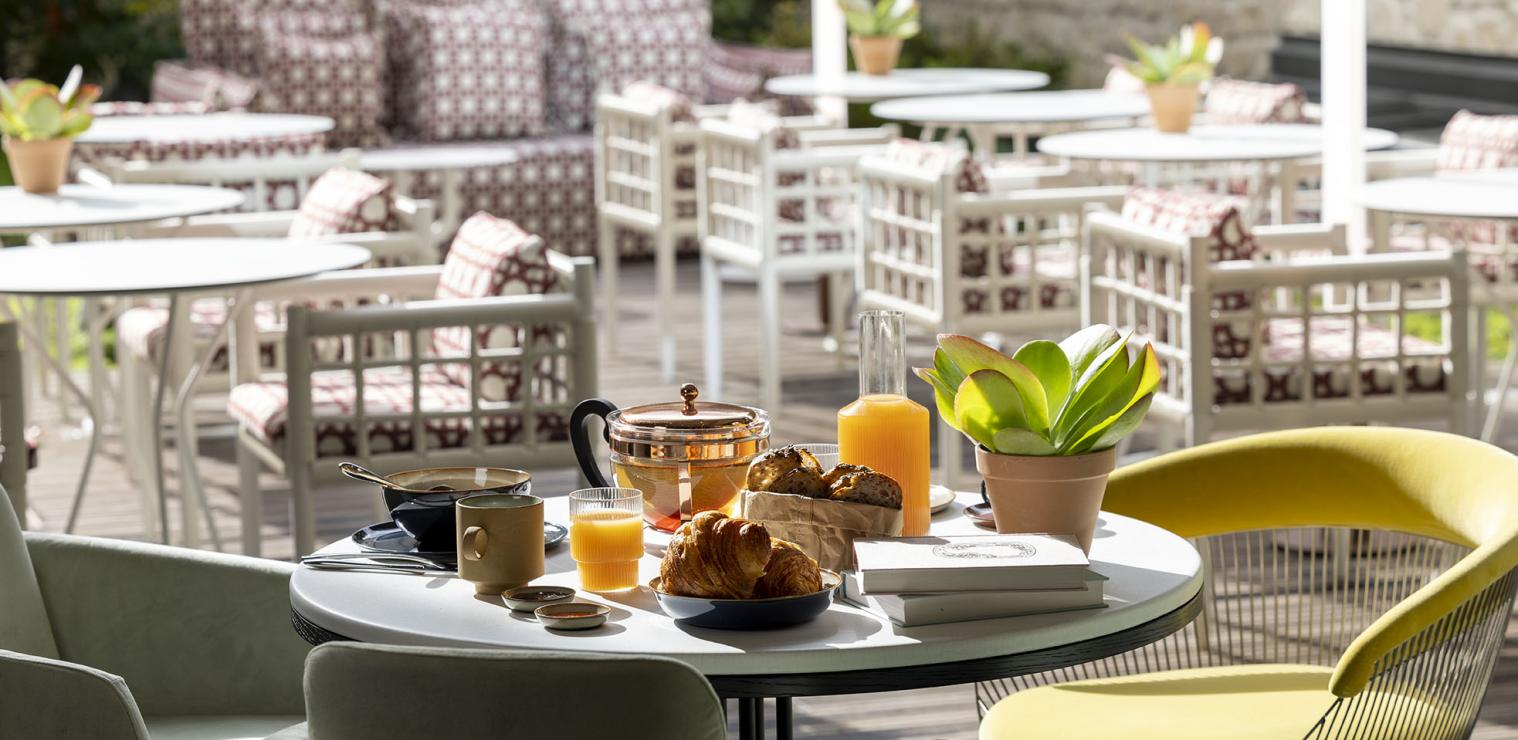 Bar
From a coffee to cocktails, gourmet hot chocolates or artisanal beers, our bar welcomes you until 11:30 p.m. without interruption.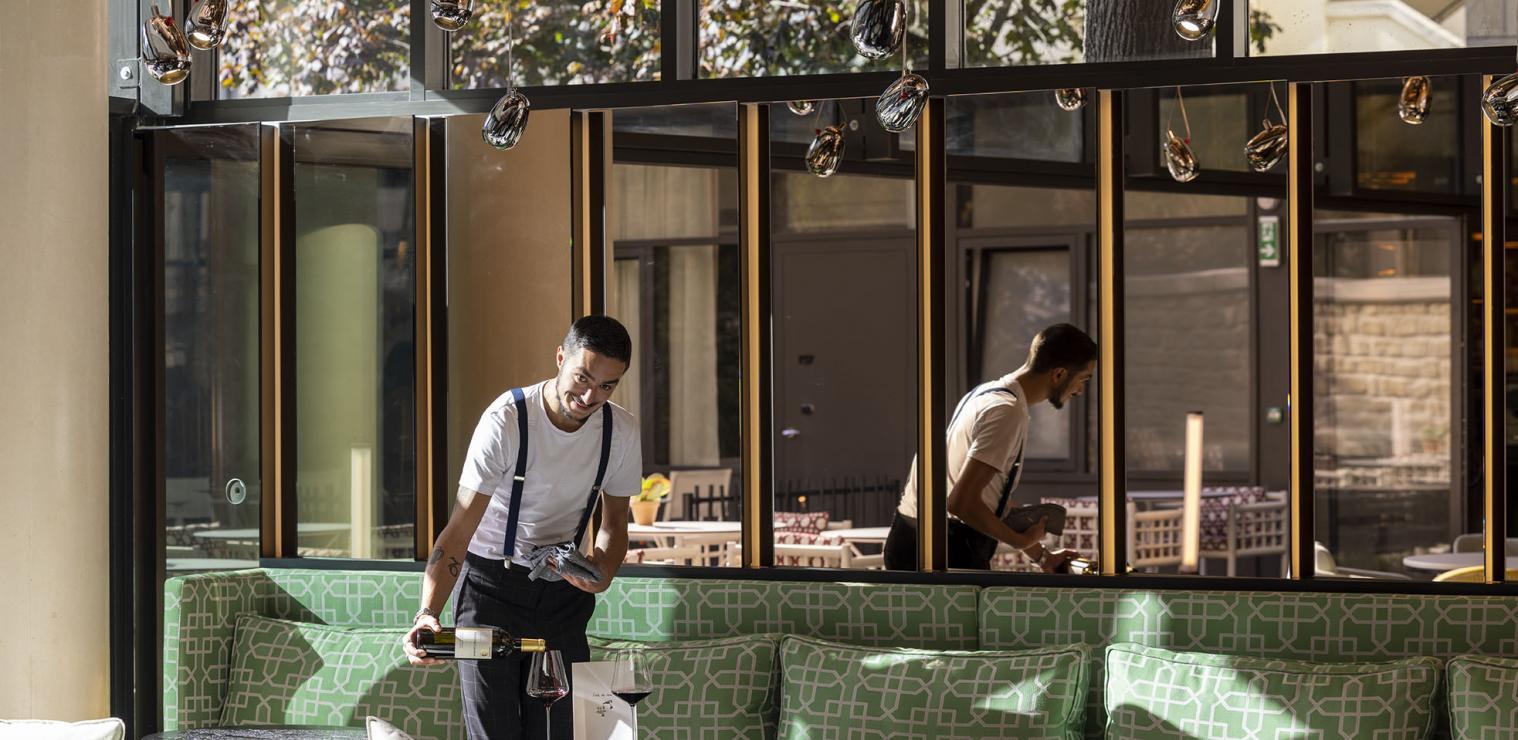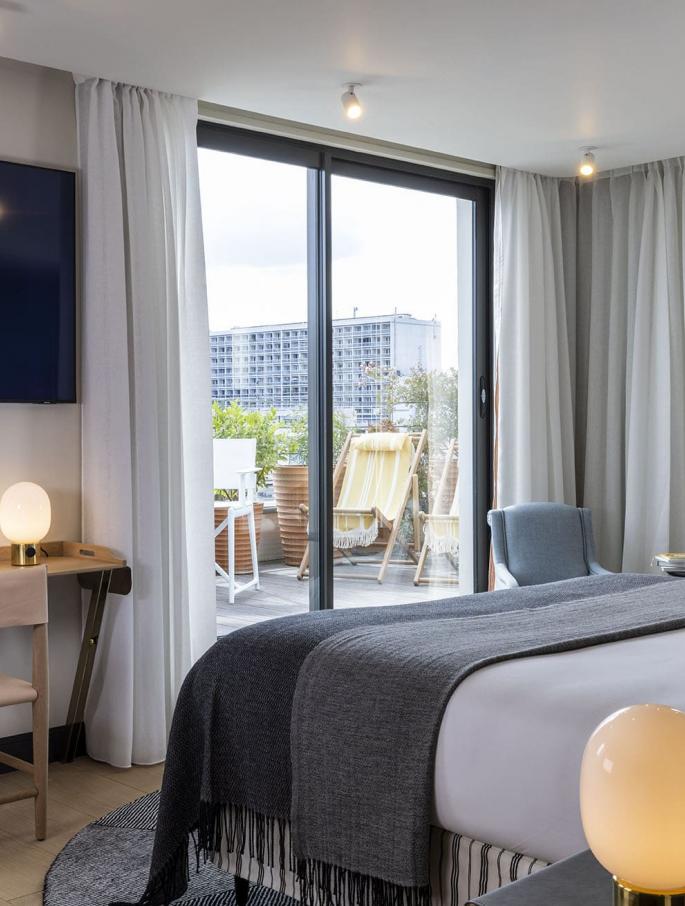 Wake-up call
An early appointment, a train or plane you don't want to miss? Just let us know and we will come and wake you up at the agreed time. / And we will arrange a wake up call just for you!
Phone
If enjoying a call with us is not enough, do not hesitate to request to open your line to call your friends and familiars.
If someone wants to talk to you, give him/her our phone number (01.89.89.40.40)! We will transfer the call with pleasure to your room!
Wi-Fi
Enter the magic key: Paris4015 and have free and unlimited access to Wifi!
TV
Time to chill! Enjoy a good film on Netflix or use the Chromecast to connect your phone and computer to the TV.
Room Service
Feeling peckish? Room service is available 24/7. A menu is available in your room. Tell us what you would like by dialling 9 on the telephone on your bedside table.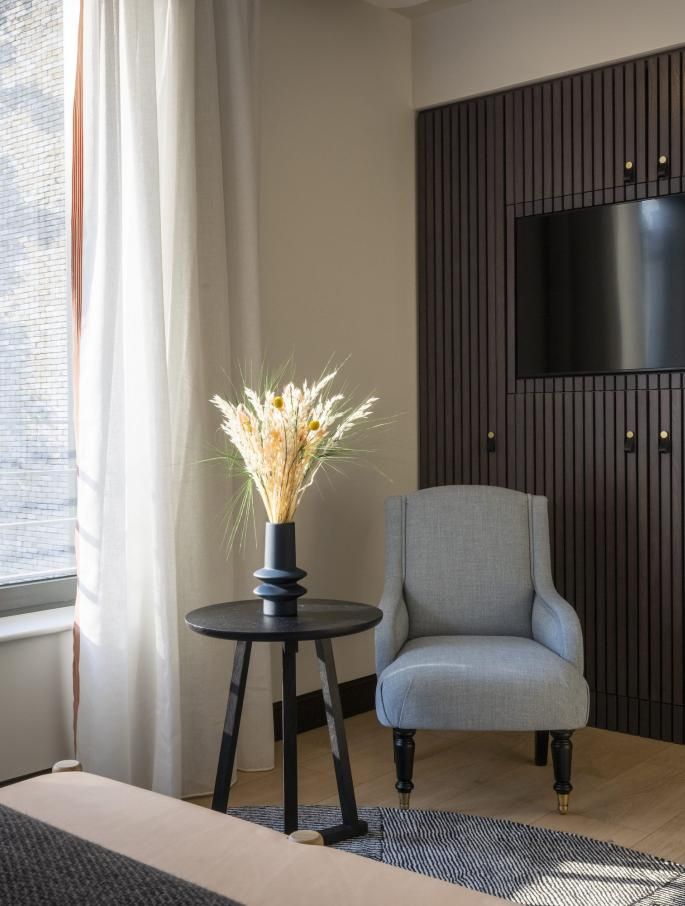 Voltage
The electrical voltage in the Hotel is 220 V. International adapters are available at the reception desk.
Extra pillows
For extra comfort, two extra pillows are available in your bedroom wardrobe. Not enough? Then give us a call and we'll find a solution!
Air conditioning/Heating
You can set the temperature of your room using the controller by the door.
Laundry
Need a clean, ironed shirt or dress for tomorrow? There is a laundry bag in the wardrobe. Just fill in the attached form and we'll take care of the rest.
Infants
The Quinzerie Hotel is ready to welcome your little ones too! We have everything you may need: baby bed, highchair, changing table, bathtub, and bottle warmer. Whatever you need to make baby's first hotel experience easier!
Wellness
Gym
In need of a quick workout? Our gym is open from 6:00 a.m. to 10:00 p.m.
Sauna
After a long stroll down the Parisian walkways, there's nothing better than to relax in a dry heat sauna. To book a private half-hour session, dial 9 for Reception. Our sauna is open from 6:00 a.m. to 10:00 p.m. (booking required).
Massage
Whether an energising massage to help you overcome jet lag, or a calming treatment after a shopping spree, an expert therapist from Paris Premium Massages will come straight to your room to take care of you. Call us for more information.
Beauty treatment
Paris is this capital of elegance. If you feel like getting done up, a beautician will head to your room for a manicure, hairstyling or make-up.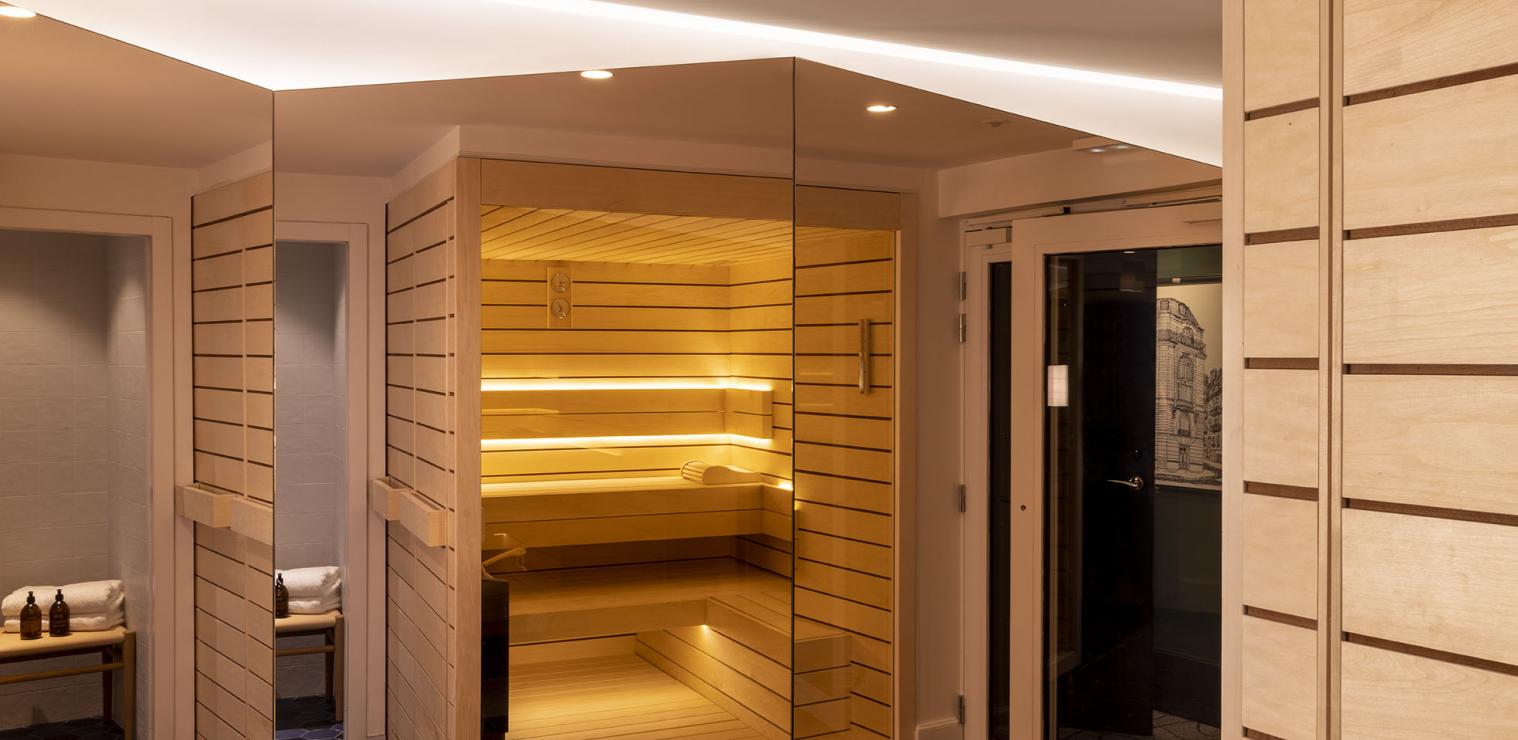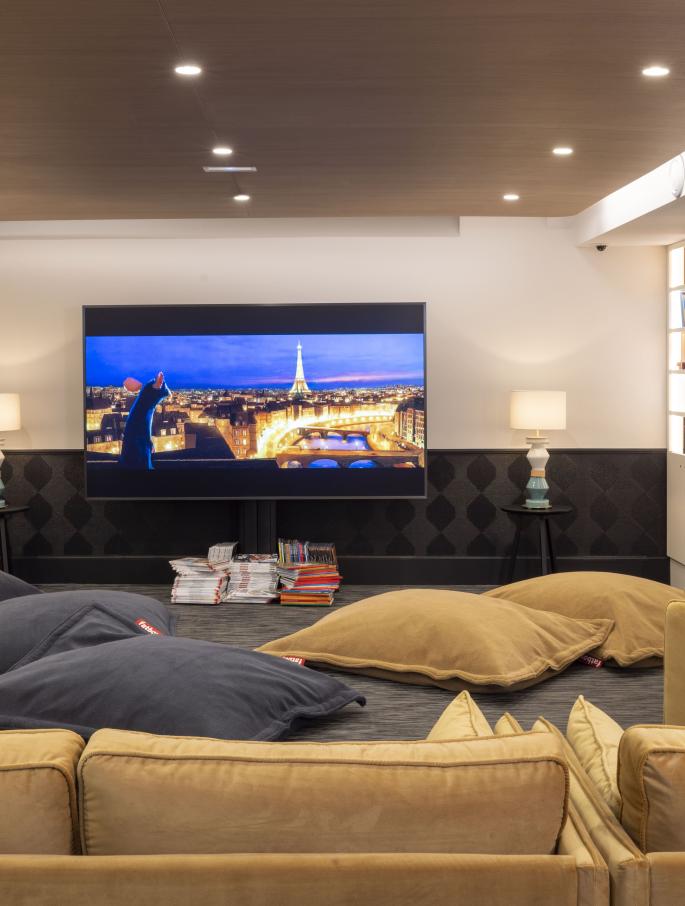 Meeting & Projection Room
For business meetings or simply to get together with friends to watch a good film, our meeting and projection room is at your disposal and can be adapted to your needs. Call us for more information.